i am very happy right now. mmmmm....i can almost taste it! i've been skipping along the hallways out of pure joy...i felt like a hyperactive puppy, i just wanted to frolic and play. there are many small reasons, little victories today which all added up just make me smile as i fall asleep tonight. here are some reasons.

- i gained 5 pounds!! i havnt been able to get over 120 pounds in months...i'm now 123!!
- my lung function went up 8% i got all the way up to 38%
- my bestest friend ronnie came to visit me today (all the way from washington) and she's staying until friday which means some actual hang out time. i havnt been able to really spend quality one-on-one time with her since she left to paris for a year. seeing her again just reminded me of how much i love her and love spending time with her. this week is going to be great. she's leaving for korea in 2 weeks and will be gone for another full year.
- i get to GO HOME on friday!! it's been a month this time. soooo long.
- i actually started making my cards. i make them out of recycled handmade paper. i'm going to sell them to raise money and awareness of CF. they all have a theme of 'breathe'.
- i met a new friend on the ward. his name is todd. he was very nice and we had so much in common we ended up standing in the hall talking till 1:30 am. it was so nice to meet someone who actually cares about their health and tries to stay out of the hospital. the last 2 friends that i've met here have had such diverse backgrounds. one had just gotten out of jail and the other cant stop drinking himself sick. they both are totally on their own and dont have anyone supporting them. i just feel so lucky to have the network of people supporting me that i do. anyways, talking to todd was refreshing and lovely, i hope we become friends.
- i got a pass and went out for dinner with 2 of my closest friends, beth and ronnie. we went to my favourite restaurant "the banana leaf cafe" which has malaysian food...mmmm. oh! and for dessert we went to the cupcake store where i bought 6 "diva cupcakes" soooo mouthwateringly delicious. chocolate cake part with light pink frosting.

i think thats it! oh...i'll show some of my cards. these pics don't do them justice as the real beauty is in the texture of the paper. All of the cards are blank on the inside....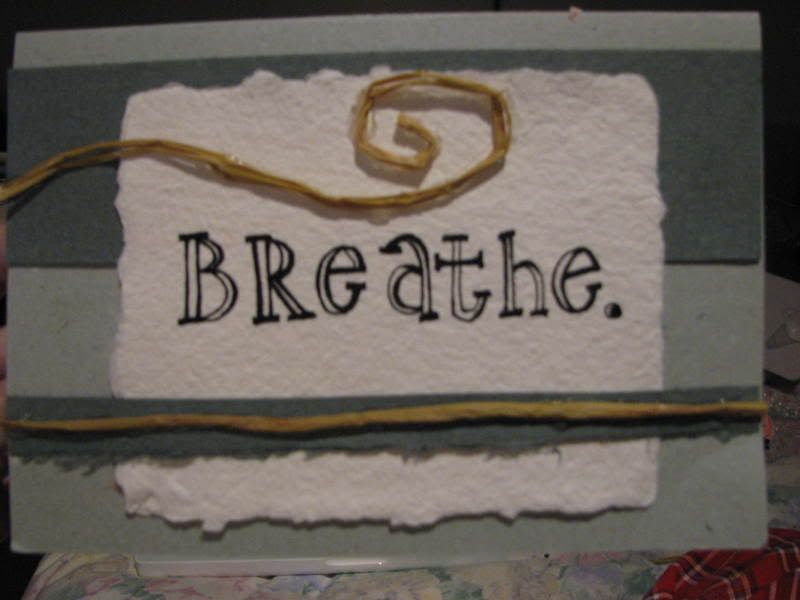 ok...well thats not cool...i just went to attach the rest of the pics but photobucket is under maintenance. guess i'll post them tomorrow!